Vimala Hills, Closer to Nature at a First-Class Resort
June 10, 2022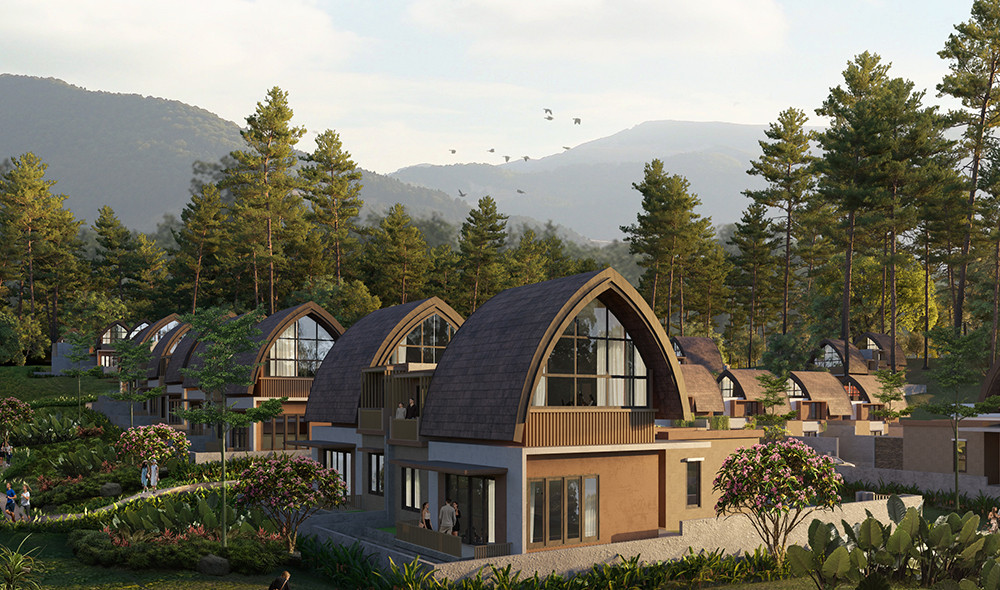 "Nature is not a place to visit. It is home." - Gary Snyder, poet.
When you hear the word 'nature,' what is the first thing that comes to your mind? Is it a tree with green leaves, a lush forest, a high mountain soaring up to reach the clouds, or a grassy field landscape with various animals? Whatever your answer is, of course we all want to feel closer to nature. The modern life, which is oftentimes full of business and activities, has taken us away from nature where we all come from. We often forget that there are many benefits that we can reap if we can live and do activities close to the elements of nature. These benefits include better physical and mental health, to an increasingly quality focus. As the American poet Gary Snyder quoted earlier says, nature should be a home, not just a destination to visit.
Embracing the above philosophy, the largest property developer in Indonesia Agung Podomoro Land presents Vimala Hills Villa & Resort. Located at an altitude of 400-700 meters above sea level in the Gadog area, Bogor, Vimala Hills is a first-class nature-friendly property equipped with modern facilities so that you and your family can enjoy a quality life. The location chosen to build Vimala Hills is an area with hilly contours, and from the location you can see three mountains, namely Mount Pangrango, Mount Salak, and Mount Geulis. In addition, 80% of the Vimala Hills area is dedicated to plant areas, making this project for villas and resorts very lush and feels like a natural park.
Vimala Hills Villa & Resort is built on an area of 100 hectares. On this land, the best property developer Agung Podomoro Land offers a variety of exclusive villas that carry the concept of modern tropical Indonesian architecture, so that the villas carry the uniqueness of the archipelago architecture in its buildings. In addition, each villa is surrounded by a beautiful garden so that every occupant will be able to feel the breeze and comfort like living in a resort area.
The splendor of living in a breezy resort like Vimala Hills Villa & Resort must also be supported by premium supporting facilities. As an integrated property developer, Agung Podomoro Land understands this very well. Therefore, Vimala Hills has a series of first-class supporting facilities. In addition to the Flower Hills that brings more beauty to Vimala Hills, residents and their families can get closer to the diversity of flora and fauna at the Deer Park (Taman Deer), the Fishing Pond (Fishing Pond), the Heliconia Garden (Park Heliconia), and horse and pony riding facilities. Weekends can also be spent in Vimala Hills with various activities at Adventure Land that can hone your adaptability to nature. From riding ATVs, having land outbound retreats, enjoying camping ground, to having jungle walks, there are various activities that can be explored with the family at Adventure Land at Vimala Hills.
Life surrounded by nature certainly supports a healthy lifestyle. To make it easier for residents to reach their health goals, Vimala Hills Villa & Resort also has a Club House and Sports Facilities. Here, there is a swimming pool, golf and tennis playing area, as well as other sports equipment, so that residents can achieve a better level of health, while enjoying the beautiful scenery. In addition, there is a Vimala Clinic managed by Bogor Senior Hospital, which provides special health services for residents of Vimala Hills. This clinic specializes in geriatrics or internal medicine for the elderly. All these facilities certainly support a holistic approach to health, to achieve a truly quality life.
The cool, breezy location and a vast array of premium facilities attract many people to own villas at Vimala Hills Villa & Resort. These villas have marketed well, with sales reaching around 90% of the total villas. To meet the high interest in living in the beauty of Vimala Hills, Indonesia's largest property developer Agung Podomoro Land has held groundbreaking for Cluster Everest, the last cluster in the Vimala Hills area. The Everest Cluster offers a premium Vimala Hills location with stunning views. The villas in the Everest Cluster are offered with a limited number of units, and each unit is designed to be spacious with 2 floors, 3 bedrooms, a balcony, and a garage that can accommodate two cars.
The villas in the Everest Cluster are designed to set a new standard of living. Set in the midst of lush greenery and wonderful mountain views, residents can enjoy life in a villa that has a stylish and luxurious design. Additionally, the Everest Cluster has its own Clubhouse, where residents can have adventure by cycling around the resort, exercising in the outdoor gym, practicing yoga at the Yoga Garden, or simply relaxing in the private pool.
Nature is where we come from. Therefore, there will always be a longing within us to return to nature and connect with the elements that make us feel calm and serene. Vimala Hills Villa & Resort is located in the middle of the beauty and splendor of nature, to redefine the meaning of a comfortable living for life. Contact the developer on Jl. Puncak Raya, Simpang Gadog, West Java or call (0251) 824 9999 or contact via WhatsApp at 0812 1111 7099 to be a part of Vimala Hills.