Rising High: Bukit Podomoro Jakarta Launches The Most Exclusive and Comprehensive Premium Club House In DKI Jakarta
August 17, 2023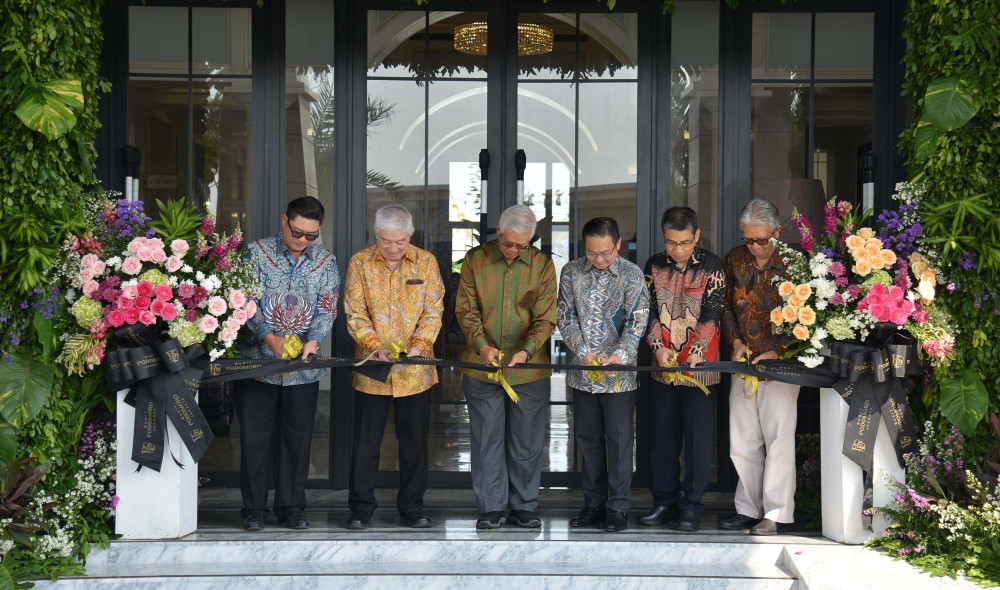 Jakarta, August 17, 2023 – The bustling activities in the capital city of Jakarta and its highly dynamic lifestyle demand continuous mobility. An ideal residence, serving as the ultimate destination after daily routines, can support individuals in leading a higher-quality and more meaningful life. Bukit Podomoro Jakarta, a developer known for its astute market understanding and a reliable, solution-oriented approach, has responded promptly to this situation.
This concrete step has materialized through the introduction of the most exclusive and comprehensive premium club house in DKI Jakarta, offering premium amenities that surpass expectations. Beyond setting trends, this club house is set to create a significant impact, both socially and economically.
Zaldy Wihardja, Chief Marketing Officer of Bukit Podomoro Jakarta, explained that a residential area can influence the quality of life. An integrated environment that keeps up with the times supports individuals in direct engagement, thus creating lasting happiness and satisfaction. "Customer Satisfaction is our top priority, and the presence of the club house reflects Bukit Podomoro Jakarta's commitment to meeting consumer needs," Zaldy stated in his official statement during the launch event of the Bukit Podomoro Jakarta club house (17/8).
In a journal titled "Alternative Property Design in Highly Sought-After Urban Areas for Middle to Upper-Class Society," the Sepuluh Nopember Institute of Technology (ITS) explained that modern society desires to reside in a secure environment with high levels of privacy, close to all facilities that support their living arrangements, now commonly referred to as "one-stop living."
For this reason, Bukit Podomoro Jakarta continues to introduce innovations like the club house to provide comfort and peace of mind, enabling consumers to enhance their physical health and mental well-being.
The construction of the premium club house has proceeded smoothly and completed on time, allowing consumers to utilize its facilities promptly. Since its launch, Bukit Podomoro Jakarta has consistently built residences, shops, and club houses equipped with top-notch, quality facilities.
Moreover, as evidence of Bukit Podomoro Jakarta's commitment to delivering quality residences, the company recently proudly received two Golden Property Awards in 2023 in two categories: Premium Housing and Compact Scale Development.
Zaldy stated that Bukit Podomoro Jakarta's residential area development is highly progressive, aligning with consumers' strong interest in property products located in the coveted East Jakarta area. "We have sold out all residential units in Phase I of Bukit Podomoro Jakarta and are now entering Phase II. Our latest launch is the Royal Type residence with a building area of 8 x 15 meters and the Regent Type with an area of 7 x 15 meters," he said.
Bukit Podomoro Jakarta has allocated 2,500 square meters of land for the construction of the premium club house, providing access to all facilities without leaving the area. The club house is equipped with internationally standard sports facilities, including a badminton court, swimming pool, fitness & gym studio, rooftop tennis court, bowling alley & games room, and billiard area. Additionally, it features luxurious recreational facilities such as the garden avenue, private cinema, kids' pool, jacuzzi, Sunset lounge, LA lounge, Leisure Lounge, and Willshire Ballroom.
The premium club house of Bukit Podomoro Jakarta also offers a handicap ramp that can be utilized by all consumers, including adults, teenagers, children, the elderly, and those with special needs. The club house facilities are inclusive and can be used by all consumers to enhance their quality of life.
"The premium club house of Bukit Podomoro Jakarta will not only add value but also provide prospective investment potential, especially in terms of future capital gains. We will continue to innovate and deliver the best property products for Indonesian families. Bukit Podomoro Jakarta is advancing, realizing a prosperous Indonesia," concluded Zaldy.