Podomoro Tenjo City is Ready to Become a New Modern Area in Bogor
September 21, 2023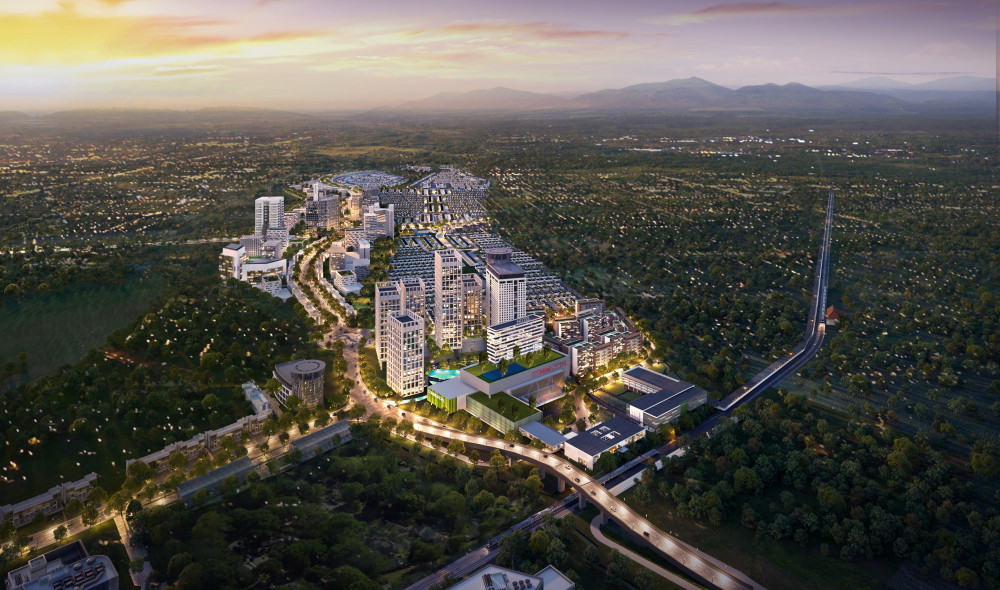 Podomoro Tenjo City is a new residential area from Agung Podomoro Land with a modern residential concept. This integrated residential area will be equipped with various complete facilities needed by its residents.
Podomoro Tenjo City was designed with a smart city concept that integrates information and communication technology in the provision of public services. This concept is expected to improve the quality of life of the community and the efficiency of city management.
Podomoro Tenjo City Modern Residential Area in Bogor
With very high market interest, Podomoro Tenjo City property products are a great opportunity for developers to continue to innovate. In the last three years, Agung Podomoro managed to record sales of more than 5300 units. This condition makes Podomoro Tenjo City, which is an independent city and satellite in West Jakarta, continue to strive to present new breakthroughs including sustainable property products.
Zaldy Wihardja, as Chief Marketing Officer of Podomoro Tenjo City, revealed that the inauguration of the deluxe type Green Magnolia Cluster is a real step from Podomoro Tenjo City to complement existing residences and create a sustainable living concept with a focus on environmental aspects. And as an independent and satellite city in West Jakarta, Podomoro Tenjo City has been designed with a very large green area since its inception.
"Podomoro Tenjo City has taken a high initiative in creating the concept of sustainable living as an effective solution to overcome the problem of air pollution and prioritize environmental sustainability. Therefore, our future focus will be oriented towards green and healthy living in presenting property products that will become investments in the health and long-term future of the residents," said Zaldy in his official statement on August 13.
The Green Magnolia Cluster will enter its final stage of development, considering the high interest in this exclusive cluster. Apart from offering very affordable housing prices starting from IDR 220 million, this cluster will be equipped with the most luxurious Club House in the deluxe area, providing facilities such as a private cinema, multifunction room, mini bowling, gym and yoga room, as well as a billiard room available for residents. Apart from that, the Green Magnolia Cluster area is also even more stunning with the inner green belt which adds to the beauty of the area.
Zaldy added that the inner green belt in the Green Magnolia Cluster area is one of the green living facilities introduced in Podomoro Tenjo City. This 850 meter long inner green belt will cross various facilities, including the cluster gate, outdoor amphitheater, outdoor fitness area, bicycle lane & jogging track, bicycle parking area, main road roundabout, trees and gardens which will beautify the inner green belt route in the Cluster Green Magnolia.
Cinnamon Business Square Second Phase Podomoro Tenjo's Latest Product
Podomoro Tenjo City also launched the second phase of Kayu Manis Business Square, which had previously sold out the first phase with prices starting from IDR 600 million. These shophouses are surrounded by four deluxe clusters and are very suitable for various types of business, including banks, restaurants, minimarkets, offices, salons, clinics, and so on. Kayu Manis Business Square will later become a supporting facility to meet the various needs of residents of Podomoro Tenjo City, which is planned to reach 15,000 residential units.
Property ownership is an asset whose value tends to continue to increase with very low risk. "Therefore, Podomoro Tenjo City, which is also known as The Next Serpong, is the main choice for property investment for the millennial generation," said Zaldy.
Podomoro Tenjo City sees that Indonesia's stable economic conditions in the second quarter of 2023 will provide a positive boost to the market and increase demand for property. This factor is supported by the existence of quality and complete facilities which significantly increase the investment value in this area. Regional development and the level of demand in West Jakarta continues to increase due to the need for affordable housing from the center of Jakarta.
Podomoro Tenjo City is considered the best choice because of its complete facilities and affordable prices. Apart from providing premium residential facilities, the developer is also actively building the Grand Transit Oriented Development (TOD) which is between two stations, namely Tigaraksa Station and Tenjo Station which will be operational in 2024 and is already connected to the Serpong-Balaraja Toll Road plan.
Podomoro City also carries the first Green Belt concept in Indonesia, complete with a Premium Club House which is a one stop entertainment with a variety of interesting activities, as well as being the largest commercial area in the Tenjo area which can be accessed by residents and local residents. To meet the needs of worship, especially for Muslim residents, Podomoro Tenjo City presents the Great Tenjo Mosque which has a capacity of up to 3,000 worshipers. The mosque construction project has begun and will soon be available to consumers in Podomoro Tenjo City and surrounding residents.
"Through the support of all parties in the launch of the new cluster and shophouses today, Podomoro Tenjo City as an independent city and new satellite built on 650 hectares of land will further meet the community's residential needs and become the best investment solution in West Jakarta," said Zaldy .
The developer is committed to continuing to provide quality housing that meets the needs of healthy housing, accessibility and easily accessible facilities in one area. "Podomoro Tenjo City will continue to be a catalyst for the property industry which is expected to continue to contribute to Indonesia's economic development," concluded Zaldy.
Own a Modern Residence in Podomoro Tenjo Bogor City Now!
Demand for property in Podomoro Tenjo City is expected to continue to grow in line with the various quality facilities provided by developers. Apart from that, prices starting from IDR 220 million offered by the developer are an additional attraction.
Moreover, Podomoro Tenjo City has fulfilled all the criteria as an independent city, with everything the community needs and supported by quality facilities. Apart from toll access, the advantage of Podomoro Tenjo City also lies in Transit Oriented Development (TOD) which is connected to the KRL.
With undoubted residential quality and quite affordable prices. Buying a residence in Podomoro Tenjo City could be the right choice for those of you who are looking for property that has high investment value and provides comfort and prosperity in life.
You can enjoy a healthier life because Podomoro Tenjo City carries the concept of green and healthy living. This means that the Podomoro Tenjo City residential area has green open space which makes the area cooler. Apart from that, Podomoro Tenjo City also contributes to reducing air pollution.
So, what are you waiting for, immediately own a modern residence in Podomoro Tenjo City. Please contact our marketing team for ease of buying housing in Podomoro Tenjo City, Bogor!