Parkland Podomoro Will Become The Next Metropolitan City in Karawang
September 21, 2023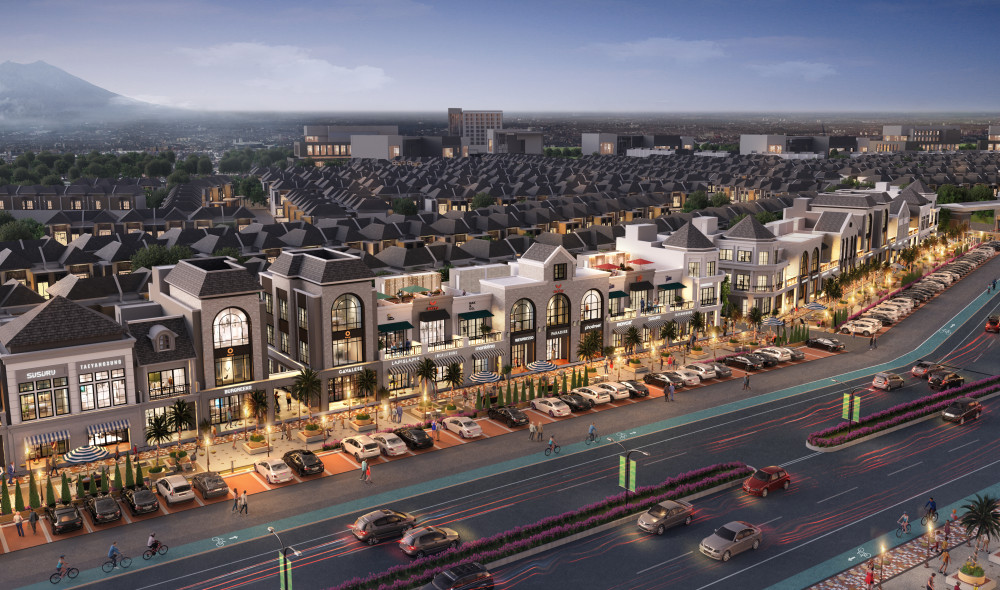 Parkland Podomoro Karawang is the newest residential area from Agung Podomoro Land which is located in Karawang City, West Java. This residential area has a land area of around 130 hectares with super complete facilities. This project has the advantage of being in a strategic location that can be reached easily.
Most recently, Parkland Podomoro will also build a connecting bridge which will provide vital access to various important areas in Karawang, West Java. The construction of this connecting bridge was marked by the Karawang Groundbreaking Ceremony which was held on Tuesday (15/8).
Parkland Podomoro Will Become The Next Metropolitan City
Bacelius Ruru, as President Director of PT Agung Podomoro Land Tbk., stated that Parkland Podomoro Karawang is one of the masterpieces of the Agung Podomoro Group which is highly committed to presenting superior, quality and sustainable properties.
According to him, the Ground Breaking Parkland Bridge is clear evidence of the developer's commitment to continuing to develop the area, creating new breakthroughs, and providing added value to all stakeholders, especially the people of Karawang."
The plan is that three bridges will be built in the area surrounded by the Citarum River. The Parkland Bridge will be built approximately 100 meters long and 25 meters wide and will function as the main door to the Podomoro Parkland Area. Meanwhile, the other two bridges will connect Podomoro Parkland with Karawang Square and the Grand Taruma Karawang Residential Area. Construction of these bridges is expected to be completed in mid-2024.
It is hoped that these bridges will become strategic access for the community and business actors in the future, considering that Parkland Podomoro Karawang will become one of the new destinations in this city. Ground Breaking Parkland Bridge which was held today also marked the start of construction of Parkland Podomoro Karawang.
We feel grateful and also grateful to all stakeholders and the community who continue to provide support to accelerate economic growth in Karawang. Karawang is one of the regions that makes a major contribution to Indonesia's economic growth. "Therefore, we are very proud to be able to play an active role in the development of Karawang," said Bacelius while attending the Ground Breaking Parkland Bridge event in Karawang on Tuesday (15/8).
As we know, the level of economic growth that continues to increase in Karawang is reflected in the continuous increase in investment every year. The Department of Investment and One-Stop Integrated Services (DPMPTSP) of Karawang Regency, West Java, noted that investment realized up to Semester I 2023 reached IDR 22.36 trillion.
Facilities at Parkland Podomoro
Tedi Guswana, as Regional Marketing General Manager of Parkland Podomoro Karawang, added that as a smart developer, Parkland Podomoro Karawang consistently continues regional development by implementing a sustainable property concept that prioritizes environmental aspects. As part of a long-term investment effort in health, the landscape of this area was carefully designed by planting lots of trees to create green areas as the lungs of the city.
"As a sustainable property developer, we are committed to always synergizing with nature by continuing to plant more trees. We believe that this small action has great potential to bring significant changes to the environment and our quality of life," stressed Tedi.
Parkland Podomoro became Agung Podomoro's masterpiece due to several factors, including the Grand Housing Riverside View concept, which is the first residential area in Karawang which is surrounded by rivers, providing a beautiful green environment. Apart from that, this area has a Botanical Garden covering an area of 1 hectare with pedestrian pathway facilities, kids playground, flower garden, amphitheater, private pavilion, communal garden and lake. Apart from that, there is also a club house with premium facilities such as a function hall, badminton court, lounge, private cinema, billiard lounge & bar, bowling arena, fitness center, rooftop bar and pool area.
Parkland Podomoro Karawang has also built La Promenade, a business and commercial area which is one of the most promising shophouses in Karawang, West Java. The presence of La Promenade can strengthen the commercial sector which is developing rapidly in Karawang and is supported by infrastructure developed by the local government. La Promenade was designed with a touch of European nuance, according to its name which comes from French which means "street". Thus, Parkland Podomoro Karawang will become a new entertainment destination and economic center for Karawang residents.
Tedi believes that the presence of the Parkland Bridge will further strengthen the position of Parkland Podomoro Karawang as a masterpiece from Agung Podomoro Land which is located in an integrated and strategic area in Karawang, West Java. Therefore, owning property in Parkland Podomoro Karawang not only fulfills housing needs with superior facilities, but is also an investment that can increase asset value progressively.
Parkland Podomoro is the ideal place to live in Karawang
Parkland Podomoro Karawang has the potential to become The Next Metropolitan City thanks to various supporting factors. First, its strategic location and easy access via toll roads and main roads makes it an important transportation hub.
Second, this residential area is equipped with various modern facilities such as a playground, fitness center and swimming pool so that it can attract people from various circles to have residences in this exclusive residential area.
Third, Parkland Podomoro Karawang also has close access to shopping centers and industrial areas, so it can attract investors to build businesses there.
Fourth, Agung Podomoro offers houses with a modern concept and integrated with nature so that they can attract interest from people who want to live in a healthy and comfortable environment.
Fifth, the environmental layout at Parkland Podomoro is very neatly designed, giving a beautiful and cool impression. This area is equipped with large, verdant open spaces that include attractive and colorful gardens.
The green open space at Parkland Podomoro was developed in accordance with the concept of environmentally friendly and sustainable development. Green open space will maintain environmental balance and help maintain clean and healthy air quality.
Therefore, residents can enjoy a healthy and relaxing lifestyle, as well as escape from the noise and busyness of the city. With all these factors, it is possible that Parkland Podomoro Karawang could develop into The Next Metropolitan City. This can have a positive impact on the economy, social and infrastructure for the Karawang area.
Parkland Podomoro is located in Karawang with easy access to downtown Jakarta and the Karawang industrial area. Housing prices at Parkland Podomoro are also considered quite affordable given the quality and facilities provided. Living at Parkland Podomoro will change your lifestyle to be more comfortable, luxurious and enjoyable. So what are you waiting for? Immediately get your dream home at Parkland Podomoro.