Agung Podomoro Strengthens Karawang's Economy with the Launch of Parkland Podomoro Karawang
August 26, 2023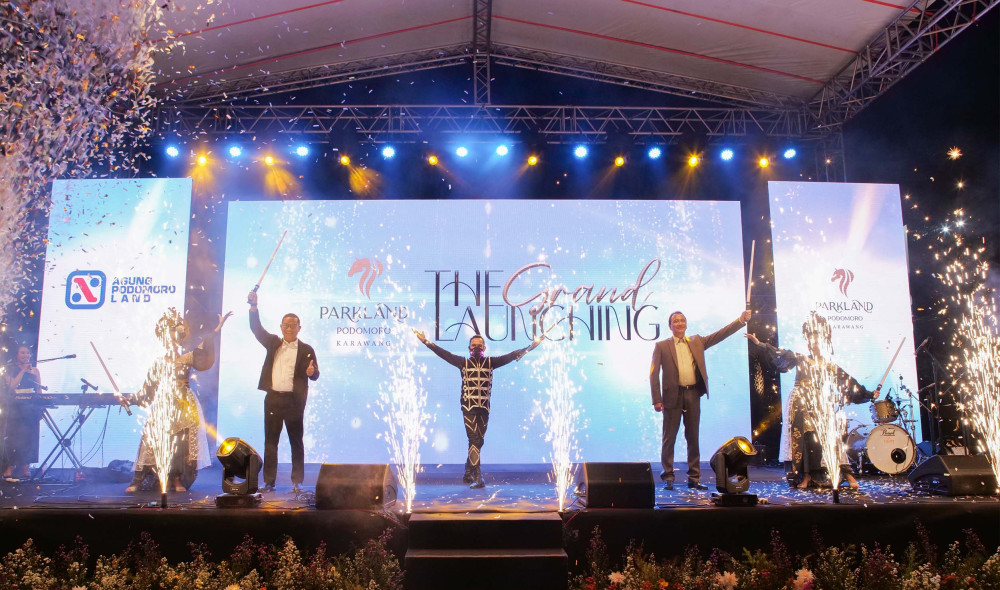 Karawang, August 26, 2023 – High economic growth has positioned Karawang as one of the new economic centers of West Java. This development has been accompanied by significant foreign investments and the construction of new factories in the region, leading to a continuous increase in the local population. Karawang has now become a new metropolitan city and a magnet for businesses, including the property sector.
Agung Wirajaya, Marketing Director of PT Agung Podomoro Land Tbk., stated that Karawang possesses exceptional economic attractiveness. Supported by increasingly mature infrastructure and expanding economic resources, the standard of living in Karawang ranks among the best in Indonesia. The growing upper-middle-class population has also created various new economic potentials, including the rising demand for premium housing.
"The influx of foreign investments, which has led to an increase in the number of expatriates and the growth of the high-income population, has made premium properties a basic need in Karawang today. We are grateful that Agung Podomoro already has land in strategic locations to fulfill this demand for premium housing," explained Agung in an official statement in Karawang on Saturday (3/6).
The Investment Coordinating Board (BKPM) recorded a 16.5 percent year-on-year growth in investment realization for the first quarter of 2023, totaling IDR 328.9 trillion. This growth has also fueled optimism for the Karawang region to achieve its 2023 investment realization target of IDR 40 trillion. This optimism is further supported by foreign direct investments planning to develop an industrial area with an investment value of IDR 60 trillion in Karawang.
As part of Agung Podomoro's commitment to boosting the economy in various regions, including Karawang, the company has embarked on a new housing project, Parkland Podomoro Karawang. Agung explained that Agung Podomoro Land has previously successfully developed high-quality property areas such as Grand Taruma and Grand Taruma Commercial. Agung Podomoro then progressively developed Kota Kertabumi with the aim of providing executive housing.
Continuing the commitment to Karawang's development, Parkland Podomoro Karawang is introduced as a modern, elegant, and sophisticated integrated residential area that will offer individuals and families a first-class experience and beyond happiness. With optimal levels of security and comfort, it is expected that the productivity of its residents will continue to increase. "Homes are a source of inspiration and energy for residents to achieve their life goals. The Parkland Podomoro Karawang area is designed and built to support this productivity, considering Karawang's position as an industrial city and metropolis," said Agung.
Tedi Guswana, General Manager of Regional Marketing at Parkland Podomoro Karawang, stated that progressive area development, mature infrastructure readiness, and increasing investment realization will be complete with an integrated area that becomes a new oasis in terms of economic, social, and cultural aspects.
"Productivity is a crucial factor for an area to grow optimally. We project Parkland Podomoro Karawang as the key to creating productivity among the people of Karawang, thus increasing the local economy and prosperity, reflected in the growing upper-middle-class population," said Tedi.
Parkland Podomoro Karawang is equipped with a variety of attractive features such as One Garden and other spots designed to delight the eye. Additionally, it includes a club house with a range of premium facilities such as a swimming pool, function hall, lounge, bowling area, mini theater, tennis and badminton courts, as well as a gym area that rivals five-star hotel amenities.
Tedi added that Parkland Podomoro Karawang is built as an integrated area complete with commercial spaces. This means that residents do not need to leave the area for daily or routine needs. "Moreover, Parkland Podomoro Karawang is located in the heart of Karawang with a super strategic location, close to hospitals, educational facilities, and the best entertainment and recreational facilities in Karawang and its surroundings," Tedi continued.
Tedi is optimistic that Karawang's bright future will directly impact property values in the region. Therefore, drawing from Agung Podomoro's more than 53 years of experience in the property industry, the company has designated Parkland Podomoro Karawang as one of its flagship projects with high value.
"The continuously rising economic value of Karawang will undoubtedly boost property values. Therefore, owning property in Parkland Podomoro Karawang is not just an investment but also a way to enjoy the economic progress in Karawang," he concluded.