AGUNG PODOMORO Collaborates with 11 Strategic Partners to Introduce Integrated Living Concepts with Added Value
August 22, 2023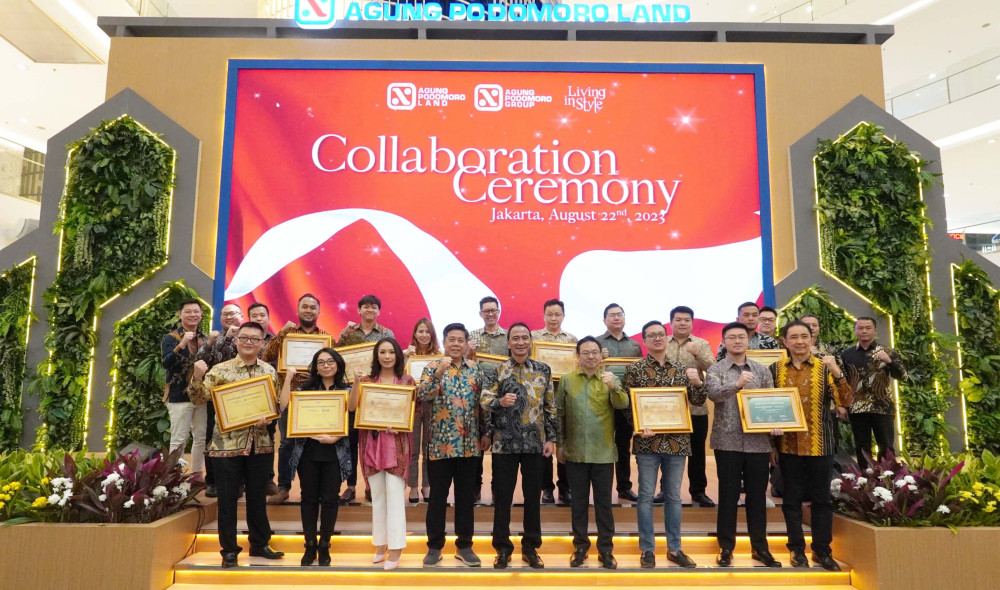 Jakarta, August 22, 2023 – Agung Podomoro continues to initiate new efforts to introduce more valuable property products. Alongside its 11 strategic partners from various sectors, the property developer with over 53 years of experience in the Indonesian property industry will offer various services and top-notch facilities in its property projects. The significant moment, titled the Collaboration Ceremony of Agung Podomoro with Strategic Partners, was held today at Senayan City Mall in Jakarta.
Agung Wirajaya, Corporate Marketing Director of PT Agung Podomoro Land Tbk., explained that the trust of strategic partners in Agung Podomoro is an honor for the company and a motivation to continue bringing new innovations that have broad positive impacts, both economically and socially. One of these innovations is a collaboration that will introduce integrated living concepts with various top-quality services.
"Agung Podomoro always maintains the highest standards for every property product it builds. Collaboration with these 11 strategic partners is part of Agung Podomoro's strategy to create integrated, comfortable, valuable, and harmonious living spaces for every resident," Agung explained during the Collaboration Ceremony of Agung Podomoro with Strategic Partners in Jakarta (08/22).
Agung mentioned that working with various strategic sectors, including infrastructure, transportation, education, retail, food and beverage, and healthcare, will further drive sustainable economic growth. "In driving economic growth, the property sector cannot stand alone. That's why we openly collaborate with various other sectors with the hope that we can all join hands and continue to advance for the progress of Indonesia," he said.
The spirit of collaboration at Agung Podomoro arises from the company's commitment as a player in the property industry that recognizes the important role of various strategic sectors in promoting a sustainable economy. Agung Podomoro consistently and adaptively undertakes the construction and development of flagship property projects that provide solutions to housing and investment needs. Agung Podomoro is also committed to developing green environmental concepts to help mitigate the impact of climate change.
Agung mentioned that collaborations with various strategic sectors are implemented in all of Agung Podomoro's business units. Strategic collaborations with the education, property, and retail sectors have been realized through the partnership between Kota Podomoro Tenjo and Soluix, Linktown, and Indomaret.
"Kota Podomoro Tenjo is a new self-sustained city where accessibility to various family needs is essential, and this collaboration with strategic partners will complement those facilities," he said.
Moreover, Bukit Podomoro Jakarta has partnered with strategic partners in the food & beverage, healthcare, beauty, and property sectors, including Bakmi GM, Dental Clinic at Bukit Podomoro, Lavees Cosmedics, and Linktown, to create an integrated premium area.
"Bukit Podomoro Jakarta is projected to be a new icon in the golden area of East Jakarta, where, in addition to building quality premium residences, its commercial area will also become a new business center driving economic growth in the region. This strategic collaboration is expected to not only meet the needs of residents with complete facilities but also create an environment with a one-stop living concept," Agung explained.
Additionally, Podomoro Golf View has partnered with sectors including home & living, transportation, and food & beverage, such as IKEA, Rent & Travel, and Coffeeright. "This integrated area in Cimanggis, West Java, has been built in a lush green area, so the presence of suitable business partners will provide additional value to enhance the quality of life for Podomoro Golf View residents," he said.
Another strategic sector that collaborates with Agung Podomoro is tourism and restaurants, with the presence of Talaga Sampireun and Kopi Oey at Vimala Hills, Puncak, Bogor. "Cafes and restaurants are the needs of modern society for activities with family and communities. Therefore, this collaboration has a very positive economic and social impact," Agung added.
In the future, Agung Podomoro will continue to be open to applying a collaborative spirit in every business unit to achieve progress together. "Our main focus is to build projects with valuable and impactful properties, where this impact is not only felt by consumers but also by the wider community," he said.