Agung Podomoro Builds a Premium Club House on Podomoro Hill, Jakarta
September 21, 2023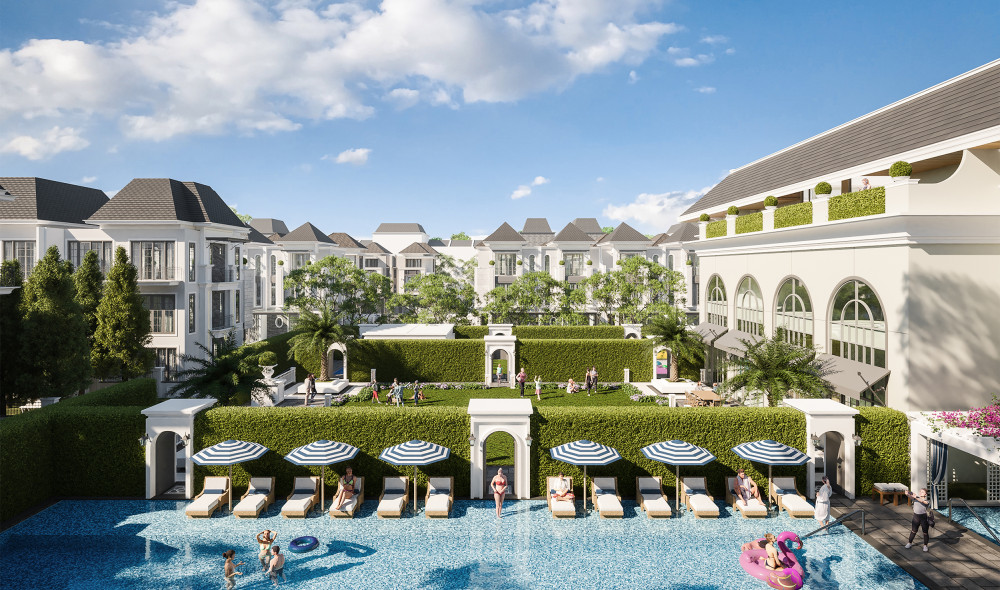 Club House Bukit Podomoro Jakarta is a club house facility located in the Bukit Podomoro area of Jakarta. This club house is designed with modern architecture and is equipped with various luxury facilities to meet the needs of residents of the Bukit Podomoro residential area, Jakarta.
There is increasing demand for property areas equipped with club houses, in line with the fact that club houses are facilities that can add asset value and the quality of life of their residents. In today's modern era, property developer Agung Podomoro provides a club house as a premium facility and signature product that can create a unique experience for consumers in owning a property.
Why are club houses in property areas so popular?
Club house is a premium facility provided by property developers for modern residences. This facility is a superior product that provides consumers with an experience in enjoying the facilities of the property products they purchase.
Some of the facilities provided include sports equipment, family and children's recreation areas, swimming pools, and relaxing rooms for entertainment. Club houses are currently the main attraction for potential property consumers because of their various benefits and the potential to increase the value of property assets in the long term.
Aldi Garibaldi, Property Observer and Senior Associate Director of Capital Markets Colliers International Indonesia (CII), said that "The availability of a club house in a property area is part of the developer's commitment to improving the quality of housing."
According to Aldi, "In general, the existence of a club house can increase the sense of togetherness between developers and consumers, making everything closer and integrated, thereby improving the quality of the property area."
Apart from that, the club house also has various functions. The first function is to facilitate the socialization of residents, where this place can be a place for residents of an area to gather, meet each other and socialize. This can improve relations between neighbors and enable the exchange of needed information.
Aldi also added that "the club house has a social function as a gathering place for home owners to discuss current issues or external factors that can affect the property area."
In terms of recreation, club houses generally provide various entertainment facilities such as private cinemas, children's playgrounds, swimming pools, flower gardens and green open areas. Apart from that, there are also sports facilities such as tennis courts, badminton courts, basketball courts, jogging tracks and fitness studios. The existence of these facilities supports a healthy lifestyle for consumers, because the property area is well integrated.
Aldi said that the facilities provided at the club house were very varied, including sports facilities. This certainly encourages the formation of community among home owners and supports a modern lifestyle.
Another club house function is to maintain the value of property assets. Aldi, gives an example that a club house can increase the competitiveness of property purchase prices. The availability of complete facilities will increase property value, maximize land use, and create a positive experience for consumers.
Aldi emphasized, "The availability of public facilities such as a club house in the property area makes offers more attractive, so that asset prices and investment value are maintained. It is important to remember that the number of consumers also has an influence on property prices."
About Club House Bukit Podomoro Jakarta
Zaldy Wihardja, Chief Marketing Officer of Bukit Podomoro Jakarta, explained that an area or place of residence has a significant influence on the quality of life. An integrated environment that always keeps up with current developments will provide support for individuals to be actively involved, creating a sustainable sense of happiness and satisfaction.
Zaldy emphasized, "Customer satisfaction is our main priority, and the presence of the club house is a manifestation of Bukit Podomoro Jakarta's commitment to responding to consumer needs." This was expressed in an official statement at the launch of the Bukit Podomoro club house, Jakarta on August 17.
In a journal entitled "Alternative Property Design in City Areas that are Favored by Middle to Upper Communities" from the Sepuluh Nopember Institute of Technology (ITS), it is explained that modern society wants to live in a safe environment with a high level of privacy. They also want facilities that support a "one stop living" lifestyle, which makes everything they need closer.
Therefore, Bukit Podomoro Jakarta continues to innovate by presenting new facilities such as a club house, with the aim of providing comfort and creating a sense of peace so that consumers can improve their physical health and mental well-being.
The premium club house construction project also ran smoothly and was completed according to schedule, so that these facilities could be immediately enjoyed by consumers. Since its initial launch, Bukit Podomoro Jakarta has been consistent in building housing, shophouses and club houses with leading and quality facilities.
Zaldy also added that as concrete proof of Bukit Podomoro Jakarta's strong commitment to providing quality housing, the company is proud to receive two Golden Property Awards 2023, which includes two categories, namely Premium Housing and Compact Scale Development.
Zaldy also revealed that the development of the Bukit Podomoro Jakarta residential area is progressing progressively, in line with increasing consumer interest in property products located in strategic locations in East Jakarta. We have succeeded in selling all residential units in phase I of Bukit Podomoro Jakarta, and are currently entering phase II. We also recently launched the newest housing types, namely the Royal Type with a building area of 8 x 15 meters, and the Regent Type with an area of 7 x 15 meters. he added.
Podomoro Hill Club House Facilities, Jakarta
Bukit Podomoro Jakarta has allocated 2,500 square meters of land for the construction of a premium club house which provides access to all facilities without needing to leave the area. This club house is equipped with international standard sports facilities, including swimming pool, badminton court, fitness & gym studio, bowling alley & games room, rooftop tennis court and billiards area. Apart from that, there are also luxury recreation facilities such as Private Cinema, Garden Avenue, Sunset Lounge, kids pool, Jacuzzi, LA Lounge, Wilshire Ballroom and Leisure Lounge.
Not only that, Premium club house Bukit Podomoro Jakarta also pays attention to accessibility by providing a handicap ramp that can be used by all consumers, including adults, teenagers, children, the elderly and those with special needs. This is in line with the principle of inclusiveness of this club house facility, which is designed to improve the optimal quality of life for all consumers.
"Premium Club House Bukit Podomoro Jakarta will provide significant added value and also promising investment potential, especially in terms of capital gains in the future. We will continue to innovate and present the best property products for Indonesian families. Bukit Podomoro Jakarta continues to move forward, join play a role in realizing a more advanced Indonesia." Close Zaldy.
Bukit Podomoro Jakarta offers a variety of quality residential options with various premium facilities including the Bukit Podomoro Club House. With Agung Podomoro's commitment to providing a safe, comfortable and integrated environment, having a residence on Bukit Podomoro Jakarta can be a promising investment for the future of you and your family. If you want to get more information about housing in Bukit Podomoro Jakarta, contact us immediately.