0% VAT, 0% DP, 30% Discount — Now is the Best Time to Own Property!
March 17, 2021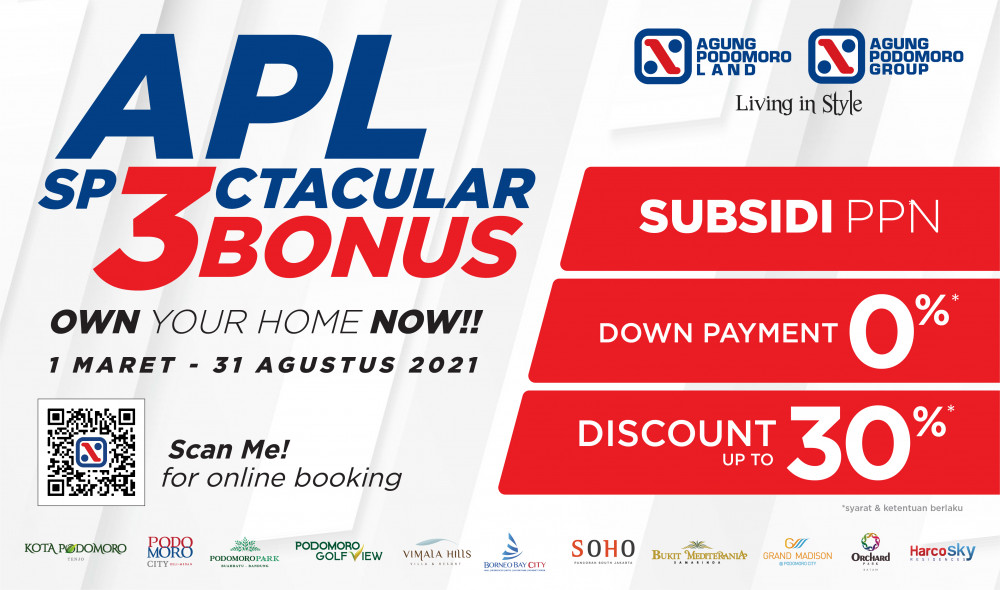 2020 is a shocking and tough year for everyone. The first two months we go on about our days as usual, we are still doing activities outside of our home, meet up with friends, and make vacation plans. However, since the beginning of March 2020, our life has changed drastically. Almost all activities are shifted to be activities carried out from home, limiting meeting with other people, and vacation plans are automatically delayed indefinitely.

Other than individuals who are forced to adapt quickly to new conditions, industry and companies are also pressured to immediately adapt to new conditions to survive the pandemic. At the end of 2019, the World Bank predicted Indonesia's economy will grow by 5.1%. In fact, it was minus 2.2%. The property industry also fell into a slump in 2020; although there were still many people who were interested to invest in the property industry, there was still a significant decline compared to previous years.

After several months passed, slowly but surely, individuals and industries started to adapt to the new normal and the economy started to revive. The government also provided various stimuli to revive the sluggish economy. Recently, the Indonesian Minister of Finance announced a special stimulus for the property sector by exempting Value Added Tax (VAT)
for certain residential types with a certain price range until 31 August 2021. Banks then supported this stimulus by introducing a 0% down payment program. The developers also welcomed by providing various promotions. Agung Podomoro Group, one of the leading developers in Indonesia with more than 40 years of experience, holds the SPE3CTACULAR BONUS program, where discounts up to 30% are given for various establishments by Agung Podomoro Group.

Now since we do almost everything from the comfort of our home or the area close to home, the facilities and the comfort of a home is the top determining factor. The comfort of a home can be supported by the facilities provided by property developers, both internal and external facilities. Grand Madison, which is part of the Podomoro City superblock, has
the best facilities and accessibility in West Jakarta. Apart from being equipped with a smart home system, Grand Madison also has a sky garden, infinity pool, children's playground,and buildings classified as green buildings. Through more than 1,000 apartment units, hotels, three shopping centres, to a culinary haven, Borneo Bay City is the up-and-coming
area in Balikpapan. Borneo Bay City is only 20 minutes from the new capital city of Indonesia and has quick access to Balikpapan's Sepinggan Airport.

In addition to comfort, of course, we still want to have a trendy and elegant lifestyle, although we do all sorts of activities from home. A trendy and elegant lifestyle does not mean that you have to spend a lot. Kota Podomoro Tenjo, with prices starting from IDR 200 million has complete facilities, a private cinema and a bowling alley being part of the Kota Podomoro Tenjo clubhouse. Meanwhile, Podomoro Park in Bandung offers a one-stop living concept that will be integrated with the Living Plaza Shopping Center. Occupying about 130 hectares of land, Podomoro Park is equipped with a 1 km long artificial lake and shady trees decorating every road. Podomoro Park is intended for millennials who want to
buy their first home, so it has very affordable prices and instalments.

Through the stimulus and promotions offered by the government, banks and property developers, it seems now is the right time to invest in property. Especially when considering the property value that will surely increase in the future. Seeing the revival of the economy and the vaccination program that the government has planned, the light at the end of the tunnel that we have been waiting for since last year is getting closer.